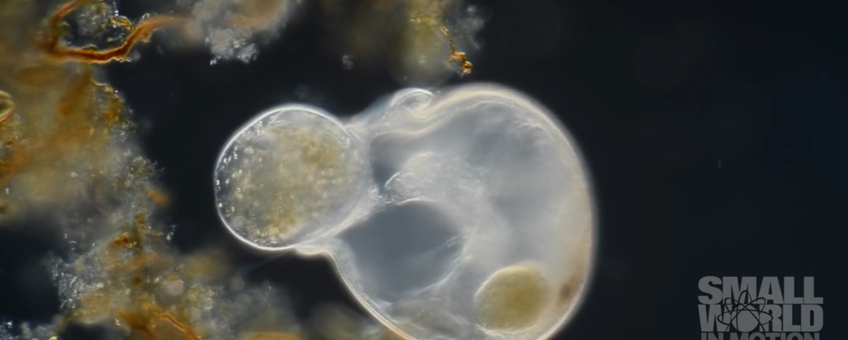 25-DEC-2015 - Nikon Instruments Inc. unveiled the winners of the fifth annual Nikon Small World in Motion Photomicrography Competition, awarding First Place to veteran winner Wim van Egmond of the Micropolitan Museum in The Netherlands. Judges were impressed with the thrilling video van Egmond captured of a ciliate predator devouring its prey.
The microorganisms in this slow-moving attack were scooped out of a backyard pond, as van Egmond hoped to inspire his friend to take more interest in her microscope. Luckily he had his camera ready when he recognized the predator and prey so close together, capturing a real-time recording when the attack began.
"Wildlife is so close to us, yet most of us never look close enough to see it," said van Egmond. "A pool in your garden is actually a miniature underwater jungle teeming with life. If you want to see the world, your backyard is a great place to start."
Om dit object in te laden dien je marketing-cookies te accepteren.
Trachelius ciliate feeding on a Campanella ciliate (film: Wim van Egmond)
Mr. van Egmond is a former first-place winner of Nikon Small World, Nikon's long-standing sister competition awarding still photography captured under the microscope. In recent years he has put more time in moving images, thanks to advancing DSLR video capabilities that allow him to capture movement and behavior of microorganisms. "For me, microscopy is about exploring living organisms - so you should see them alive and moving," said van Egmond.
It is this continued advancement of digital technology that led to the creation of Nikon Small World in Motion five years ago, as scientists and artists were suddenly able to show another dimension to life under the microscope.
"Wim exemplifies the evolution of Small World over the years, as technological advances push our ability to see and discover the world forward, and video takes center stage," said Eric Flem, Communications Manager, Nikon Instruments. "Beyond still images, video has become a powerful tool for artists and scientists to show the life and movement they see under the microscope every day. This competition serves as a platform to share those discoveries with the world, and hopefully inspire others to pick up a microscope and take a closer look."
Text: Nikonsmallworld.com