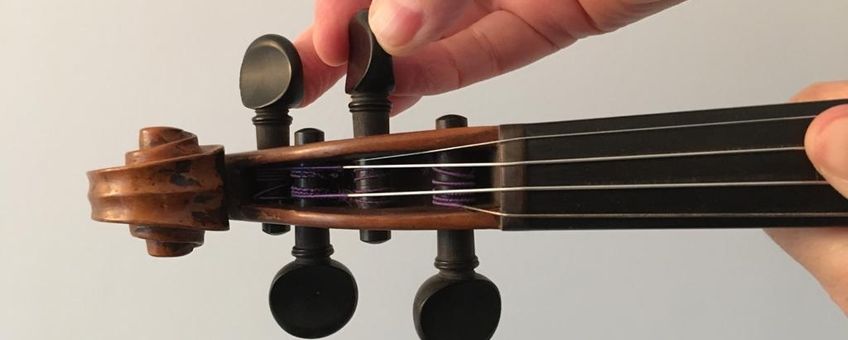 07-NOV-2020 - Due to overharvesting, all ebony wood from Madagascar has been legally protected since 2013. Black ebony is a highly valuable source of wood that is often used in parts of acoustic string instruments. Wood anatomy - the study of cellular patterns in wood - can be used to detect illegally logged ebony wood.
Wood anatomy of ebony
This study provides the first wood anatomical overview of ebony woods, presenting variation in cellular wood patterns of 246 out of circa 800 species of the ebony wood genus Diospyros occurring all over the world. All species of ebony have wood with typical cellular patterns and prismatic crystals. The position of the crystals in specific cell types can be used to distinguish different groups of ebony species from each other.

Wildlife forensics: the importance of reference collections
There are several tools to identify an unknown piece of wood. In addition to wood anatomy, scientists also use other wood identification tools such as chemical profiling and DNA sequencing. Applying these complementary approaches to the same wood sample provides the best guarantee to unravel whether or not the wood belongs to a legally protected timber species. However, this combined approach only works well under the assumption that the reference databases for the identification tools are sufficiently complete. This research provides an important first step towards completing the wood anatomy reference dataset for ebony woods.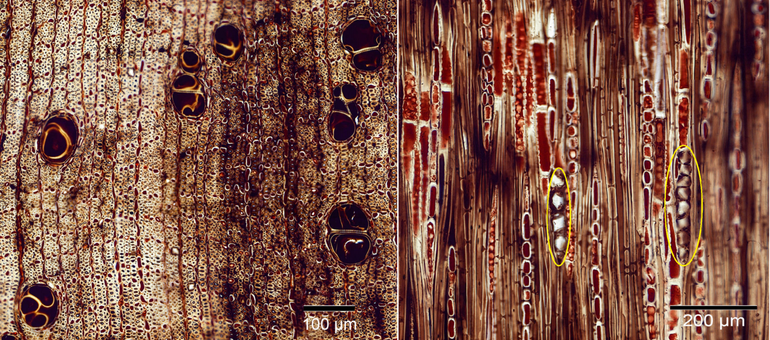 Ebony species used in musical instruments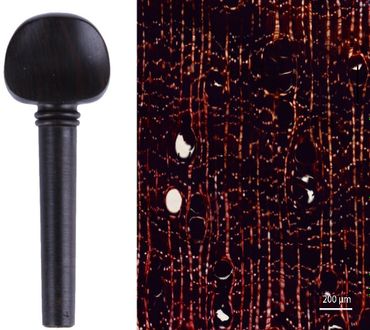 Our study shows that legally protected species of Diospyros from Madagascar share wood anatomical features related to the position of crystals in specific wood cells (see figure above), but this trait does sometimes also occur in species occurring elsewhere that are not legally protected. This means that wood anatomical observations cannot be used to distinguish legally protected from unprotected ebony wood with hundred percent certainty. Combining anatomy with chemistry and enlarging the sampling by adding more ebony species from Madagascar will increase the potential for wildlife forensic applications. Our ongoing wood anatomical analyses of ebony parts from acoustic string instruments are currently providing more insight in the species that are most frequently used. This will help selecting species for more sustainable ebony wood plantations to curb illegal logging practices and develop production of musical instrument parts made of ebony wood without the risk of wiping out endangered tree species.
More information
Text: Vicky Beckers, Barbara Gravendeel, Mehrdad Jahanbanifard & Frederic Lens, Naturalis Biodiversity Center and Fons Verbeek, Leiden University
Foto's: Naturalis Biodiversity Center