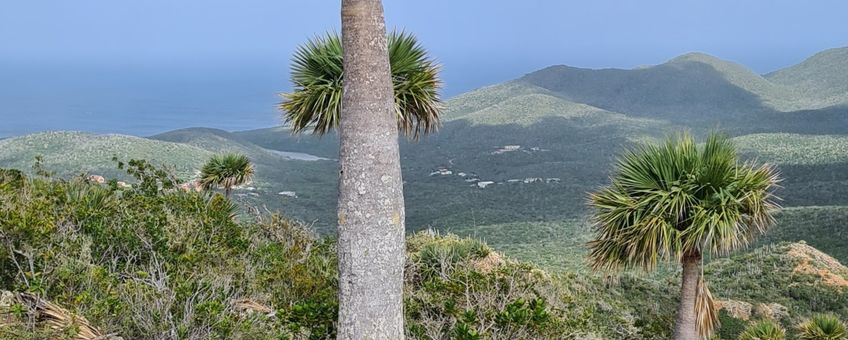 19-MAR-2021 - An update to a 40-year-old Sabal palm survey for the islands of Bonaire and Curaçao highlighted the striking differences between the two islands. Through active park management, Curaçao has seen over more than a three-fold increase in adult Sabal palms, whereas an unmanaged palm population on Bonaire has seen a decrease of nearly 20% of adult palms. Active protection of these palms is needed.
The Sabal palm, or Kabana as it's known locally, is the only native species of palm tree found on the islands of Bonaire and Curaçao. In fact, the true identity of this palm has been heavily debated, with its classification changing throughout the years until it was finally recognized in two scientific publications as the two endemic species Sabal antillensis on Curaçao (in 2017), and Sabal lougheediana on Bonaire (in 2019).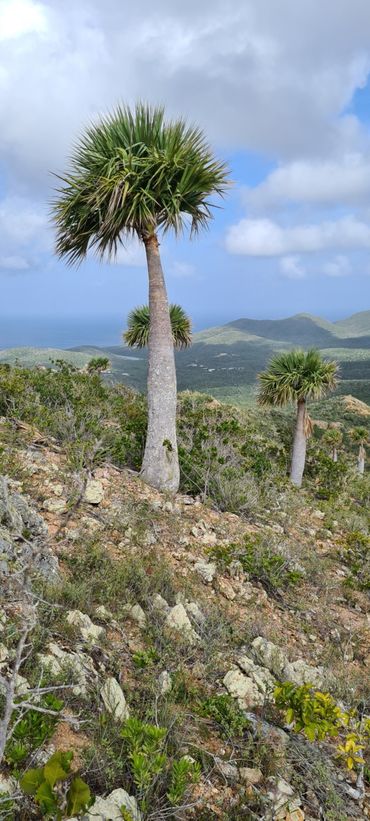 On both islands the Sabal palm population is found in very limited distribution areas. On Curaçao, its range is limited to the highest hills in the southwestern part of the Christoffelpark and its direct surroundings there. On Bonaire, this palm is only found within the Lima area, the very low limestone terrace located west of Lac Bay and north of the salt pans.
In 1979, researcher J.E. Winkelman first surveyed the number of palms on both islands, which she found to be 1,062 specimens in total. Of these, only 354 were mature palms, and only 31 of these could be found on Bonaire. In this initial study, Winkelman also noted that the largest threat to these remaining palms was most likely free roaming animals, such as goats and donkeys, who could eat and trample seedlings. Since this initial assessment, no follow-up surveys have been conducted, creating a significant knowledge gap concerning the current status of these iconic palms.
Luckily, a new study worked to close this gap. Researchers documented current populations on both islands and compared these results to the initial 1979 survey. The goal was to not only provide an updated count, but also note if any change to their range have occurred, providing important insight into factors that will contribute to designing an effective conservation strategy.
The Study
In 2018, surveys were conducted by counting the number of palms on each island. Given the small geographical areas and uniqueness of the terrain, it was generally easy to find and spot these palms. By using similar techniques and survey sites, a direct comparison between the 1979 and 2018 studies could be completed to help evaluating the local populations as decreasing, stable or increasing.
Interestingly, populations on these two islands have had very different developments over time. There has been a 318 percent increase of adult palms on Curaçao, whereas Bonaire has seen a decrease of approximately twenty percent. In addition to population changes, there were also fairly significant shifts in their range. On Curaçao, the overall geographic range of these palms increased from less than five square kilometer in 1979 to eight square kilometer in 2018. Again, Bonaire saw a very different trend, with the geographic range shrinking from five square kilometer to less than one square kilometer.
Om dit object in te laden dien je marketing-cookies te accepteren.
Sabal Palm and grazing animals (Bron: DCNA BioNews)
Other results
For both islands, there were a relatively large number of seedlings seen through their geographical range. On Curaçao, this could have been the result of the increase in adult palms. On Bonaire, it is more likely attributed to the time of the year the surveys were conducted. The 2018 survey was conducted right after the wet season, which could account for the increase in the number of seedlings due to the fact that fresh seeds germinate quite easily.
Changes in overall numbers of palms can be attributed to a wide range of factors. Christoffelpark has actively managed their goat and donkey populations since the mid-1980s. This decrease in free roaming grazers may have given these palms a higher probability of survival. These grazers have been known to feed on and trample seedlings, along with reducing vegetation and soil cover, further threatening the ability of seedlings to successfully grow. The increase in Curaçao's range could have been due to the successful dispersal of seeds by local animal populations, as there are various species of birds, deer, rodents, and iguanas inhabiting this area and are known to feed on these seeds.
Recommendations
The findings of this study have led the researchers to provide four key recommendations for designing a successful conservation strategy for these palms. First, they recommend actively managing feral herbivores within the palm's habitat. On Bonaire, this could be the construction of a 3.5 kilometer long fence which runs along the perimeter of the Lima area in order to enclose the whole Sabal palm population in the Lima area. Secondly, they recommend implementing a more rigorous monitoring plan to help tracking the health and recruitment of these palms to provide key indicators of change in future populations. Thirdly, it has been recommended that Bonaire actively cultivates these palms in other areas of Bonaire, to improve overall population numbers. Lastly, the successful management program of the Christoffelpark should be continued, as this study shows the dramatic impact significantly reducing the number of feral grazers can have.
Future of the iconic Sabal palm
The free roaming animals of Bonaire are often part of the iconic charm of the island. A successful future of the island's endemic species, both plant and animal, must include a balance to allow each a chance to thrive based on nature's ecological capability. This study demonstrates how actively managing these feral animals can drastically improve the flora populations of the island. Understanding the impact each species has on the ecosystem will help nature management organizations to design and implement environmental management plans to ensure a healthy future for the island.
More information
Text and photo: John de Freitas, Dutch Caribbean Nature Alliance (DCNA)
Video: Carmabi, Echo, Florida International University, Bonberde, Areas Hogeschool en DCNA in DCNA BioNews