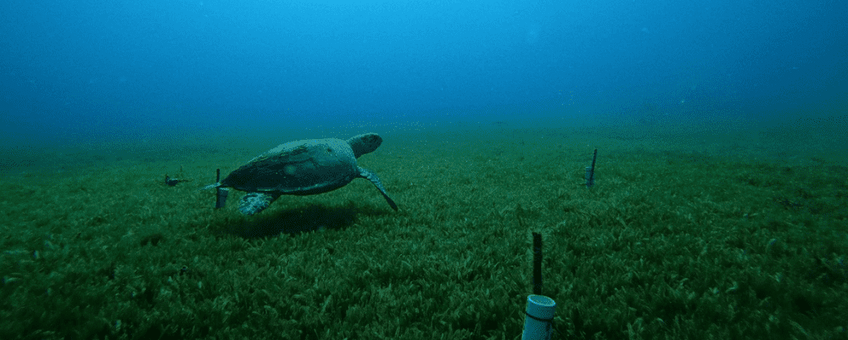 20-SEP-2022 - A new study from the Caribbean Netherlands Science Institute and Utrecht University investigated the sediment stabilizing ability of non-native seagrass species - Halophila stipulacea - found off the coast of St. Eustatius. This new fast-growing seagrass has rapidly outpaced native species, leaving many to wonder if its explosive growth will be to the benefit or detriment to the island.
From anchoring sediments to creating fields of foraging and nursery areas, seagrass meadows play an important role in near shore environments. Alarmingly, research from St. Eustatius has revealed that the seagrass meadows which once encompassed the entire island are now limited to a small area along the northern shelf. Furthermore, where native species such as turtle grass (Thalassia testudinum) and manatee grass (Syringodium filiforme) have disappeared, the non-native species Halophila stipulacea has rapidly spread.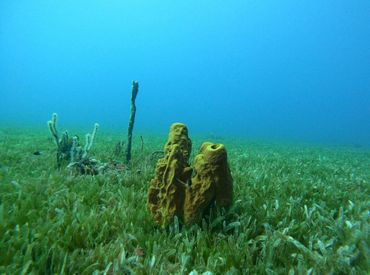 A new study by the Caribbean Netherlands Science Institute and Utrecht University set out to explore the impacts of this population shift. Specifically, the study hoped to determine if this new species could stabilize sediments and help prevent coastal erosion as effectively as native species which are historically found in this area.
Sand stability
After fourteen weeks, researchers found that sediment within the H. stipulacea meadow had eroded, but this was mostly within the surface sediment layer. The subsurface layer, however, was believed to be more stable due to the root and rhizome system of the seagrass and saw overall smaller variances when compared to bare sand areas, even during more extreme weather conditions. Overall, there was less resuspension of sediment in non-native seagrass patches and more long-term sediment level stability when compared to open sand areas.
Habitat forming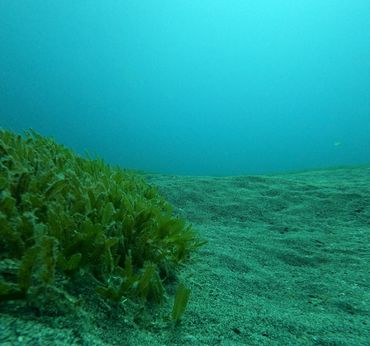 Implications of non-native seagrass expansion
Although it is perhaps not as efficient as native seagrasses, the non-native seagrass H. stipulacea does appear to have some advantages. Its fast-growing nature means that it can recover more rapidly after extreme storm events than native species. Its rapid expansion could help counter the massive seagrass losses seen around the island, contributing to more sand stability and improved habitat for a wide variety of marine life.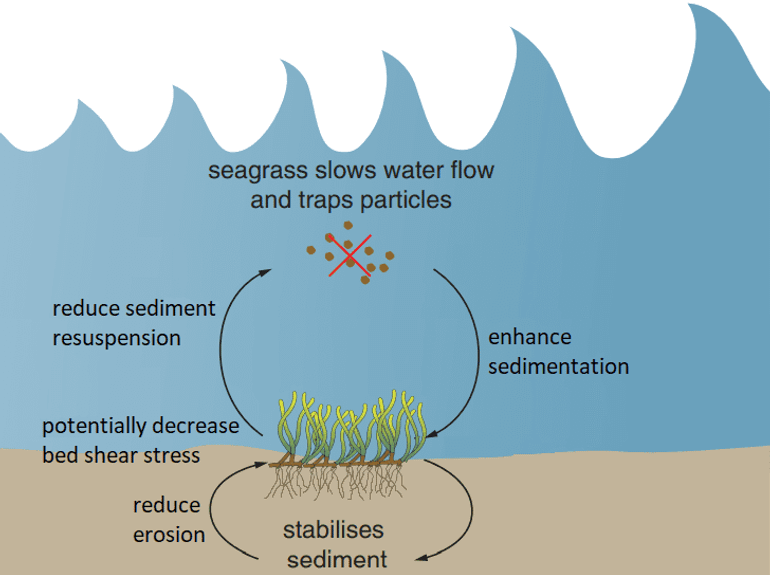 More information
The full report can be found on the Dutch Caribbean Biodiversity Database
Text: Dutch Caribbean Nature Alliance
Photo's and figure: Francine M. van Hee