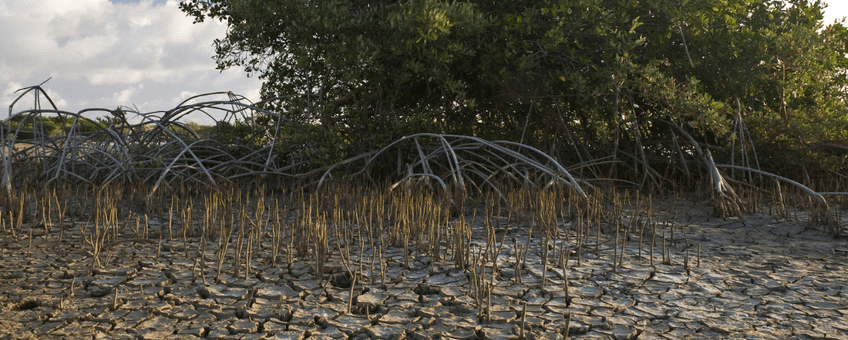 06-MAR-2023 - Mangroves create new land by slowly packing sediment within their roots, but too much sediment can lead to dieback. Researchers from Wageningen University and Research analyzed the potential erosion rates in the catchment area of Lac Bay, Bonaire, and found that this area will require catchment wide mitigation strategies.
Mangroves are incredibly unique ecosystems, capable of moving their entire forest over several generations to maintain their preferred environmental conditions. Typically, sediment erodes slowly from land, making its way into the forest. This gives mangroves the material they need to form new land. Mangroves filter the sediment, pack it within their roots and slowly create mangrove peat, which creates the foundation for new territory.
Slow and steady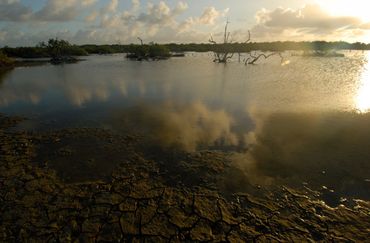 Forming new land must be done in moderation. When too much land sediment enters the forest at once it can have damaging effects. Smothering the mangrove roots and choking out hydrological channels, this excess sediment can quickly lead to mangrove dieback within a few years. In fact, over the last few decades, Bonaire has seen this firsthand, as the backlands of the mangrove forest are being choked out and environmental conditions are degrading until the mangroves can no longer thrive.
Catchment areas
To explore this issue further, researchers from Wageningen University and Research working with local area expert Sabine Engel, conducted an analysis of the potential erosion within the catchment of Lac Bay. This catchment area covers an estimated 1600 hectares, meaning nearly six percent of the total island drains towards Lac Bay. Through collecting information on the potential erosion rates, coupled with a mini rainfall simulator, researchers were able to estimate the amount of surface runoff and potential erosion rates within this area. The goal was to provide valuable recommendations to management authorities on areas where efforts should be focused to help minimize erosion. This adds to the portfolio of information already available on the islands, which explored the value of sediment traps and used satellite imagery to highlight the disastrous effects of this excess sediment on mangroves.
Not so simple
As it turns out, the potential erosion rate across the entire catchment area was found to be rather homogeneous. Given the minimal elevation fluctuations, coupled with the uniform deforestation, not one particular area could be singled out as having greater influence over the others. This creates a complicated environmental issue which needs to be tackled on a large scale. Therefore, catchment wide conservation methods need to be pursued. This includes increased reforestation projects, catchment wide removal of feral grazers and perhaps the development of earthen dams or sediment traps.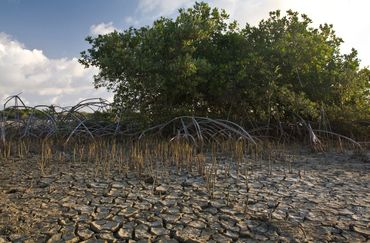 Creating balance
A common theme to most of these projects seems to hinge on the need for restoring balance. Luckily, nature-based solutions can take some of the pressure off area managers by allowing environments to build internal resilience. Although it seems easy in principle, these solutions do require initial investments and sometimes fundamental shifts in how we, as local residents and visitors, utilize these spaces. Establishing this balance between use and functionality will require collaboration from all, but should inspire confidence, as the solution could lie in our own actions.
More information
The DCNA supports science communication and outreach in the Dutch Caribbean region by making nature related scientific information more widely available through amongst others the Dutch Caribbean Biodiversity Database, DCNA's news platform BioNews and through the press. This article contains the results from several scientific studies but the studies themselves are not DCNA studies. No rights can be derived from the content. DCNA is not liable for the content and the in(direct) impacts resulting from publishing this article.
Text: DCNA
Photos: Marjolijn Lopes Cardozo (leadfoto: black mangroves); Henkjan Kievit; Lan Remeta